As a side note to this article, I attended a real estate broker event at Soleil Laurel Canyon in I guess Kennesaw? It was off of EXIT 20 off of I-575.. I clocked it at 44.1 miles from 14th Street in Midtown. I'll be doing a post about it later this week!
As I sat there and looked at the people that live there (it's an adult active community…you have to be 55+ to live there) I thought, do these people, who vote, even have a concept of what it's like to deal with traffic, on the Downtown Connector everyday? It made me quickly see how getting a regional transportation system in place in Metro Atlanta is like moving a mountain, and then some. Hence my photo below of an old, old bus. Because by the time we do something about our transportation issues in this city….we'll probably be using old buses.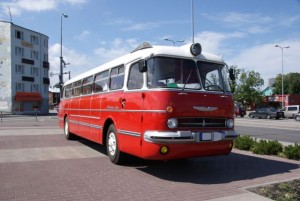 See on Scoop.it – Other Atlanta News Events
MARIETTA — After reviewing the findings of the $1.8 million Northwest Corridor Alternatives Analysis study, which calls for a $1.1 billion bus system from Kennesaw State University to Midtown Atlanta, Southeast Commissioner Bob Ott called it "a pipe dream."
The proposal recommends a $1.1 billion bus system stretching 29 miles from KSU to the MARTA Arts Center Station in Midtown. There are also routes that come off that main line that serve Acworth, Kennesaw, Marietta, Smyrna and the Cumberland Community Improvement District, said Faye DiMassimo, director of the Cobb Department of Transportation, who along with Jim Croy, whose firm conducted the study, made their presentation to the Board of Commissioners on Tuesday.
Read more: The Marietta Daily Journal – 1 1B bus proposal called 'pipe dream'
See on www.mdjonline.com