The news if full of bad news when it comes to real estate, or so it seems. Kinda like the evening news….
So when we have GOOD news, we should be shouting it from the mountain tops…or in this case, from the roof tops!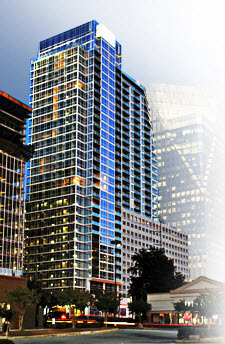 Cousins Properties has ONE unit left to sell at 10 Terminus Place in Buckhead.
The 32-story tower, with 137 condominiums opened in 2008 at the infamous intersection of Piedmont and Peachtree Roads.  Since the building opened, Cousins too two impairment charges (writing off the value of goodwill) to be able to adjust prices…as much as $300,000 on a 3-bedroom to help move sales along.
I sold a home here last year, and have some very happy buyers that purchased a 3 bedroom home on the pool level. The terrace was the size of many Midtown Atlanta 2 bedroom condo homes!
Always good to have good news in the real estate market…and we need to shout it from the rooftops!