There is something about that new car smell. You know. Not only the smell, but the fact that you are the first owner. Except maybe for a test driver at the factory, you are the first driver of your new car.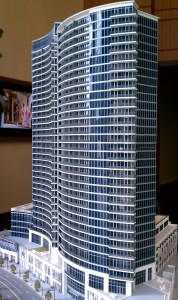 The same can be said about buying your Midtown Atlanta condominium, and you can find that "new car smell" at 1010 Midtown Atlanta. This exciting condo community is one of the few remaining "new car" living options in Midtown today. With the real estate market like it is, it may be sometime before Midtown Atlanta sees new condo construction. So if you are looking for a new condominium home, with that "new car smell" and the pride of being the first owner, then 1010 Midtown Atlanta is just what you are looking for.
As part of the massive 12th and Midtown development by Selig Enterprises, Daniel Corporation and the Canyon Johnson Urban Fund, this development is in the center of all that is Midtown Atlanta.
With restaurants like Ri Ra Irish Pub and Ra Sushi and shopping at CB2, 1010 Midtown Atlanta is a destination in itself. Across the street, the new Loews' Midtown Atlanta Hotel offers you, your visiting friends and other Midtown Atlanta visitors luxury accommodations.
The homes here, and their views are spectacular. Beautiful finishes (including the lack of the exposed concrete ceiling found in many condos) along with resident amenities that include a fitness center, club room and outdoor roof top garden and pool make this an exciting living option in Midtown Atlanta.
It's important to remember, when you visit the sales center of any new single family or condominium community, the sales person you are talking to represents the Seller, and not YOU! You should seriously consider being represented through a brokerage agreement with a real estate broker representing YOU.
Here is a great glimpse of the 1010 Midtown Atlanta community. For a more personal tour, why not call or e-mail me!