1010 Midtown Condominiums Announce New Pricing
Well, we all knew it had to happen sooner or later. Just wish it would of been sooner.
1010 Midtown has finally announced discounts  on the homes at this stunning addition to the Midtown skyline. Of course there is the disclaimer "on selected homes" but at least it gives Buyers the idea that the pricing on some of the homes has come down to reflect the Midtown Atlanta Condo Market.
1010 Midtown Condominiums is part of the 12th and Midtown development located at, you guessed it, 12th and Peachtree Streets. The retail space remains largely empty, with the exception of several restaurants that have been strategically placed along the 11th Street, Cresent Avenue and 12th Street sides of the building. These include Ri Ra Irish Pub, Noon Midtown and Ra Sushi. Additionally, there are several clubs within walking distance of the building.
The new Loews' Atlanta Hotel is also part of this development, offering elegant accommodations and meeting space.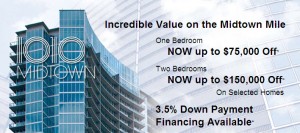 If you have been considering a move to Midtown Atlanta, now is the time to take a look at 1010 Midtown! Give me a call and let's look at some of the models.