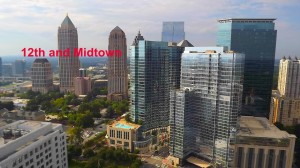 One credit you CAN give to the 12th & Midtown development is they have brought some life to Peachtree Street, between 11th and 12th Streets! While their retail space scale has tipped mostly to restaurants (why is it all we get is more restaurants?) the dining choices are pretty good. And more are on the way in the coming months.
But for the holidays, 12th & Midtown has again called out the 12 Days of Midtown for the holiday season. From December 12-23, when you mention the 12 Days of Midtown, you'll get a discount or a tasty beverage at one of their retail businesses!! Just take a look!
Cucina  Asellina:
Complimentary glass of bubbly
Eleven/Bar Eleven:
$5 signature "Cocktail 12"
Exhale Spa:
$25 off any 60- or 90-minute spa therapy plus a complimentary class (same day
as service only)
Select cocktails and appetizers for just $5 each (Monday-Friday, 5-7 p.m.)
Piola:
$5 signature cocktails caipirinha or caipiroska
Raw Denim:
12 percent off entire purchase (in store only, excludes sale items and
accessories, cannot be combined with another offer)
Republic of Couture:
$15 gift card with a $30 minimum purchase (excludes sale and café items)
STK:
Complimentary glass of bubbly
So take a break from shopping, and catch a pick-me-up cocktail at one of the 12th & Midtown restaurants and have yourself a Merry Little Christmas!