The 12th Annual Festival Peachtree Latino will be in Piedmont Park in Midtown Atlanta, Sunday August 26 from 11am till 8pm.
What is the Festival Peachtree Latino?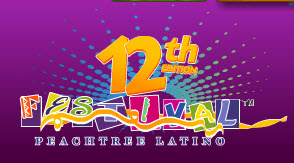 Since 2000, the festival has been the largest family and multicultural event in the Southeastern U.S.  Family activities, hundreds of exhibitirs, sporting events and arts and crafts are just some of the activites planned for the 1 day event at Piedmont Park. This year's festival has an expanded lineup of muscial performances.
Culture and Entertainment
You'll find the diversity of the Atlanta Latino community will be expressed from Africa to Asia and and Europe to Australia. And you will find that diversity in food, arts and crafts and entertainment!
Yunel Cruz, Chavana, Ana Barbara, El Cata and Widy will be some of the featured performers.
Getting There And Parking
This festival has been held in Centennial Olympic Park for the past few years. A majority of the attendees will be coming from all over the Metro Atlanta area, and may choose to drive, vs. taking MARTA. BAD IDEA! Parking in Midtown around the Piedmont Park area is always a challenge and with the addition of ParkATLANTA and their tickets, it could make for an expensive day if you get a ticket. I'd stronly suggest you drive to one of the outlaying MARTA stations, and take the train to the Midtown MARTA station.You can walk from there to the park and all the festivities. If you are driving, jsut make sure you park legally, and don't block driveways and such.
We'll be there and hope to share some follow up pictures of the days events!