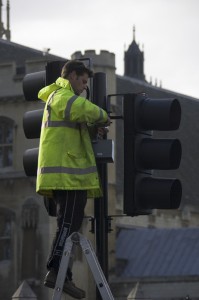 Via Scoop.it – Other Atlanta News Events
Drivers in Midtown Atlanta could soon see more green lights thanks to a $1 million federal grant, which will be used to sync the traffic lights.
You know! You've been there. You go one block and BAM…another red light! Midtown Atlanta is about the only part of Atlanta (except for Downtown) where there is a grid system to the streets, and lights could be better programmed. That said, so much of the traffic is either going North or South….this will be interesting to see how it all works.
But really, a MILLION dollars to do this? Maybe we all need to become traffic engineers. Is it to late?
Via www.wsbtv.com