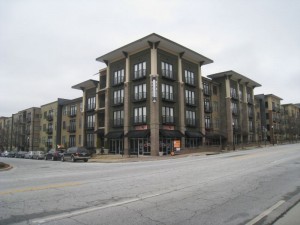 During the market downturn in condominium sales in Atlanta, developers were strapped for money, and ways to make ends meet. They came up with a pretty smart idea…depending on which side of the idea you were on….
As the developer, they controlled the HOA…they still owned a majority of the homes. So, let's take up the 20-25% of homes that are allowed to be leased, and lease them….ourselves. Now we have some income coming in. As the sales increased, and the inventory decreased, the developer now wants to get out of the "property management business" and sell this inventory. The GOOD NEWS for you…as a real estate investor, you get to purchase a condo AND the coveted Leasing Permit. What a concept!
Such is the case at a great development in Chamblee called 5300 Lofts. Located across the street from the Chamblee MARTA station, they are a perfect option for the investor looking for a lower cost opportunity, and in turn, the tenant looking for a rental that offers easy transit access to Buckhead, Midtown and Downtown. Heck, you can even use MARTA to get to the hospitals at Perimeter!
This is a limited opportunity. Let me help you purchase an investment condominium, and I'll assist in the management of the property with the current tenant in place, or we'll put a new one in! Remember, you have a leasing permit! There is only ONE other condominium community in Atlanta I am aware of that you can do this, but the sales price is $375,000 and up!