7 Things To Help You Sell Your Intown Atlanta Condo
The real estate market seems to have turned a corner, at least the Intown Atlanta Real estate market. It's very much a Seller' market, and a well maintained and priced right condo will be gone in no time flat. But that that does not mean that you, Mr/Ms. Seller don't have some work to do to make sure your are Under Contract in hours if not days, once you are listed!
Here are 7 things you need to do to help you sell your Intown Atlanta condo!
De-clutter and Pack It Up!
Whether you've lived in your condo a long time, or a short time, you end up with "stuff." And sometimes, way more than you should have in your condo if you are trying to sell! Whether its that overstuffed couch you brought with you (and was to big to begin with) or lots of clothes, books, whatever…its time to pack it up! Look at it this way, you'll be packing to move, so you just get a jump start. Look for a convenient local storage place to rent a storage room short term.
Staging Be it Occupied or Vacant
If you are still living in your  in your Intown Atlanta Condo For Sale, how it looks once you've de-clutter is important. I KNOW, I KNOW…it's hard to keep everything picked up, neat and tidy, but you have to do it. Seriously, a messy place will get a lower priced offer, OR, no offers at all. If the Buyer's can't see past your mess, they can't imagine themselves living there. So what are some little things you can do?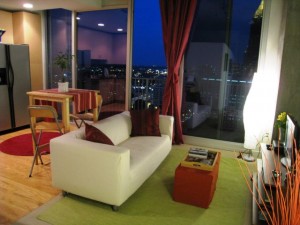 Clean out and organize the Fridge — Every Buyer will open it, trust me!
Keep the kitchen counter clean, and ALWAYS, wipe out any water spots from your stainless steel sink
Keep towels folded neat in both the kitchen and the bathroom (not on the floor where you dropped it when you were done!)
Home Office space? Clean and tidy it up. Put Bills away (you should not leave anything with an account number on it)
Stack up magazines and books on the coffee table or shelves
Dust, yes, DUST the furniture and hardwood floors
Shower/ Tub –make sure the grout is crystal clean
No dead plants or empty planters. Pick up a couple fresh plants, or even some fresh flowers
If your condo front door is painted, and has scratches, see if you can get Property Management to give you a fresh coat
What Do You Like About Your Condominium Building?
Create a take-away handout that highlights the services, amenities, concierge, what ever it is that you like about your building. The Buyer looking at YOUR condo may see 3-6 others in the same day, and this little extra will help them remember your condo AND your building.
Intown Atlanta Living Convenience
Why did you BUY your condominium where you did? In the same hand out above, what conveniences did you like the most while living here? (Starbuck's across the street, dry cleaners, festivals, parks, grocery stores….you get the idea)
You Best Picks for Breakfast, Lunch and Dinner
Sure, this is subjective, but if the Buyer (or the Buyer's agent) are not familiar with the area, this little tip can help! Found that perfect Philly Cheese Steak sandwich? The best Mojito? Mexican, Chinese, Thai? Mention some of these that are close by to help the Buyer know what's around your building and in the neighborhood.
Write a Letter to the New Owners
Seriously! A note from you, along with the information above. Telling how much you've loved living in your home, the memories you've made and why you are leaving. You can get as person as you want, or be a bit more general in nature. A divorce might indicate you are desperate to sell, but starting a family and needing more space gives it a personal touch.
Service Vendors and/or Utilities Information
Another tip you can leave behind and a potential Buyer can see some value. You've had great service with Johnny's HVAC service in taking care of your air conditioning. Outline what's covered by the monthly HOA fee — some buildings include high-speed Internet which is a cost savings to the Buyer. Or water and sewer charges may be included — a BIG savings to an Owner. Try to think back over the time you have lived here, and what questions or services YOU needed, that the next owner probably will too.
Working with your real estate agent, and following these tips, will help your home sparkle, stand out above the rest, and lead to (hopefully) to a quick sale for you!