Well gasp! Not EVERY crane in Midtown Atlanta is a rental apartment building. (Mind you that is probably 75-80% of them!) One of those cranes is on 14th Street and belongs to the AC/Moxy Hotel Midtown Atlanta!
AC/Moxy Hotel Midtown Atlanta Starts Vertical Climb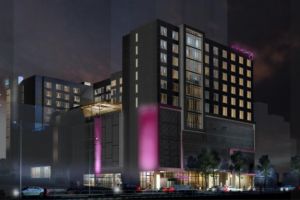 I think I missed getting photos of this parking lot before the construction started on the parking lot between the Four Seasons and the Marriott Suites hotel. But as Curbed Atlanta has reported, we are starting to see columns rise as this hotel gets under way! This unique hotel combo concept is being developed by Noble Investment Group and is a $70 million project!
As reported in the Atlanta Business Chronicle, this will be the first ever combination of the two hotels. The AC Hotel is a contemporary European-inspired property while Moxy is aimed at the Millennial traveler with lower priced rooms and smaller in size. AC will have 155 rooms and Moxy will be 133.
Look to see guests checking into this cool space sometime in 2018.
The hotels will share an amenity deck with a rooftop pool and bar! (I like the sounds of that…'cept for the hotel bar pricing?) Maybe it will be a new hot spot in Midtown!
You can learn more about Moxy Hotels HERE! And you can see the long list of properties scheduled to open, including locations like Minneapolis, Denver, Nashville and Washington, DC…just to name a few!
Check out more information about AC Hotels HERE! Lots of locations in the U.S. including Phipps Plaza Buckhead and Downtown Atlanta for a local view. (Reminds me…I need to pop into one of these and do a follow up report, don't I?)