Homes For Sale in Adams Crossing Atlanta GA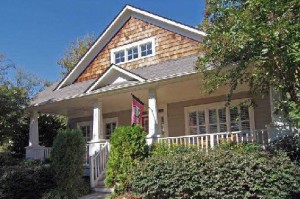 If you are looking for the classic American '20s and '30s styled homes, but don't want a home BUILT back then, you might want to look to West of I-75 and North of Midtown West to Adams Crossing.
Perhaps Americana or Mayberry comes to mind with the clean look of the wood exterior finishing, front porches and spotless alleyways. Adams Crossing is tucked off from the industrial area of Howell Mill Road and Chattahoochee Avenue. The community offers an alternative to living intown without the problems that accompany older renovation projects: crumbling facades, bad plumbing and extra high prices.
The neighborhood takes an interesting approach not often found anywhere in Atlanta to garages, using back alleyways to keep the streets clear of cars and clutter. Instead of having two-car garages gaping toward the street, they're hidden behind homes. Hence…Mayberry!
Keep in mind, Adams Crossing is still tucked in the working area of Atlanta, so the sounds of 18-Wheelers and trains are part of life here. But the convenient location with access to Buckhead, Midtown and Downtown make Adams Crossing an Intown Atlanta real estate option worth of consideration when looking for more than condominium living.
Search Atlanta Real Estate in Adams Crossing|Atlanta Georgia Homes For Sale in Adams Crossing
Sorry, but we couldn't find any results in the MLS that match the specified search criteria.