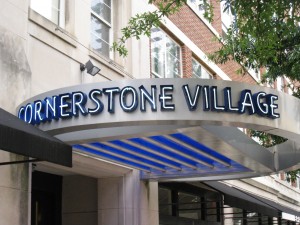 Another Happy Georgia Tech Parent!
I've helped numerous parents purchase Midtown Atlanta condos for their son or daughter to live in while attending school! It's a great option over on-campus dorm life, and if purchased at the right time and price, can appreciate.
It was a pleasure to help Jim and Carla find a great Cornerstone Village condo for Kara to live in while she attends Georgia Tech. And getting this kind of "thank you" makes it all worth while!
Thom Abbott helped us find my daughter, Kara, a great place to live while attending Georgia Tech.
Normally, finding and purchasing a property is stressful and challenging regardless of the circumstance. That stress multiplies when the property is 700 miles away from home and it is for your oldest daughter living away from home for the first time. 
We turned to Thom Abbott as our real estate agent, but his assistance went beyond the typical agent role. He did all the things you would expect from an agent. He knew properties, trends, amenities, and transportation options in Midtown Atlanta. He provided market research and fair market prices and ultimately helped us identify the best property for our budget and needs. 
After the offer was accepted, he provided potential appraisers and home inspectors. Buying for a distance, he accompanied my daughter on the home inspections. In my daughter's words, "Thom asked the home inspector a lot of questions because he knew my Dad would want answers." he worked with us to smoothly complete the purchase. 
Once we closed, Thom continued to help. He helped us identify contractors to take care of minor upgrades on the property. We received multiple quotes so we know we got a fair price. Once the contract work started, he stopped in and inspected the work, found potential problems and had the contractor make changes improving the end result. 
He also worked with the condo association to complete our paperwork and helped lease one of our unused parking spaces. Thom Abbott's assistance made purchasing a condo in Midtown Atlanta a very smooth and easy process. We are very grateful for his help. 
Jim and Carla Boucher