Working with you to market your Atlanta home or condominium For Sale, we do a lot of work online. Afterall, that really is the first place today's home buyer starts their home search. But now it's time to look for a real estate broker to SELL your home.  When you search for a new broker, you are certainly looking for recommendations from family, friends and co-workers. And when they mention someone, you are most likely going to see what OTHER people have to say about them. Right?
I was delighted to help Becky and Lev Gartman sell their Cornerstone Village condominium! Lev had moved to New York City a few years ago. We  helped him obtain several tenants during the time he was not in a position to sell the condo. Fast forward to him getting married to Becky, and then the time came for them to seek a home in New York! 
Thanks to Becky and Lev for letting us help them realize their new home dreams by selling their Midtown Atlanta condo! 
*** *** *** *** *** ***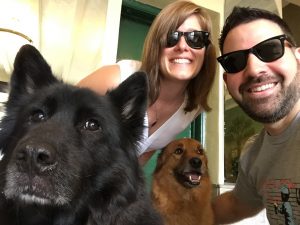 As a real estate broker, Thom Abbott not only helped us navigate the tricky business of making our condo into a rental unit, but took care of quite literally everything – from finding tenants to addressing any tenant or condo association issues, down to keeping us updated with the latest condominium association regulations and how to make them work for us.
When it came time to sell, Thom was knowledgeable about the market, helpful, aggressive, and honest…everything we wanted in a Seller's Agent. The condominium sold quickly, and with very little stress.
Did I mention we did all of this from New York while Thom managed everything in Atlanta?
We heartily recommend Thom if you're renting or selling, and want to get top dollar out of your place with zero stress!
Becky and Lev Gartman
If you need to sell your home or condominium, give me a call, or just give me some details to get started on a marketing plan just for you!