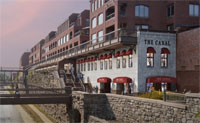 See on Scoop.it – Midtown Atlanta Conversations and Condos
Topher Mathews found out what Vornado plans for the now-closed Georgetown Park Mall.
I thought this article timely considering the current proposal to drop a WALMART in the middle of a transit oriented area with a 7 acre parking garage. How come Atlanta (at least the urban part of Atlanta) can't ACT like an urban city, but continue to promote suburuban development in the city. 
A WalMart with 7 acres of parking within walking distance of a MARTA station is the best example of poor urban planning I've ever seen! 
See on greatergreaterwashington.org