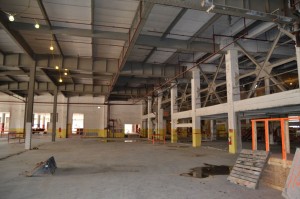 Earlier this week, the first tenant at the long awaited opening of the Ponce City Market moved into their offices!
athenahealth Moves into Ponce City Marketplace
Way back ( certainly over a year ago) I had the opportunity to tour the building as Jamestown was working to turn the building from awful to awesome…which they have. That's where this photo on the right came from!
But this week, the space is starting to buzz as Watertown, MA-based athenahealth — a health IT company —  unveiled their  new 60,000-square-foot home inside the brick building . Initially, some  200 employees will occupy the space, but growth plans call for up to 600 people and double the space to 120,000 sq.ft within the next 5 years.
athenahealth employees will enjoy the awesome location of Ponce City Market next to the Beltline! Just across the street they'll find Whole Foods and other stores! But from a living standpoint athenahealth employees will have some great options between Midtown Atlanta condos, apartments in the immediate area of The Market and quaint homes in the Virginia-Highland area.
We look forward to helping these new arrivals discover all that Midtown Atlanta has to offer, both for fun but for living as well!
Here is a link to the story in Curbed Atlanta with pictures of the new space. (We did not want to "borrow" photos we did not have permission to use…so check out the story and the space….pretty cool place to work for sure!