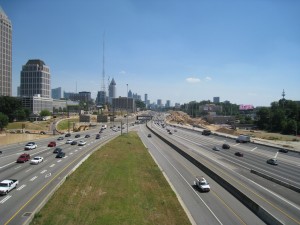 See on Scoop.it – Midtown Atlanta Conversations and Condos
ATLANTA — Commuters battling traffic in the Bay Area or New York might protest, but Atlanta-area traffic seems to be uniquely awful.
and headlines.
For more than a decade, Atlanta has been among the fastest-growing regions in the country, but the road and rail system in a state that ranks 49th in per capita transportation spending just could not keep up.
Hourlong commutes are common, and more than 80 percent of commuters drive alone. Only 5 percent make use of the region's limited train and bus systems, according to research by the Brookings Institution.
This month, Atlanta-area voters are being asked to approve an ambitious fix that would raise $8.5 billion by adding a penny to the sales tax for 10 years.
The proposal, which bundles 157 projects in 10 counties, is part of a July 31 referendum that will allow voters across the state to decide whether they want a new tax for transportation specific to their region. Voters in the Savannah area, for example, will decide on a $1.6 billion regional package of road and transit improvements, of which $229 million would be spent in Savannah.
See on www.nytimes.com