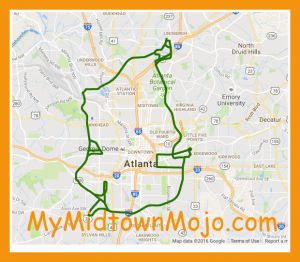 Waaaay back in 1999, a then little known GATech college student had a vision. Take 22 miles of unused railroad lines and turn them into a network of public parks, multi-use trails and transit, circling Downtown Atlanta and connecting many neighborhoods. Welcome Atlanta Beltline.
But such was the dream and Master's Thesis by Ryan Gravel. And from that thesis, to a grassroots campaign to a new vision for the City of Atlanta. As the Beltline's website says,
"The Atlanta BeltLine is transforming the city with a combination of rail, trail, greenspace, housing and art. It will ultimately connect 45 intown neighborhoods. It is the most comprehensive transportation and economic development effort ever undertaken in the City of Atlanta, and among the largest, most wide-ranging urban redevelopment programs currently underway in the United States."
That's some pretty big stuff, eh? But let's give you a little more scope into what this project will be over its life:
22 miles of pedestrian friendly rail transit
33 miles of multi-use trails
1,300 acres of parks
5,600 units of affordable housing
1,100 acres of brownfields remediated
$10-20 Billion in economic development
30,000 permanent jobs
48,000 one-year construction jobs
Public art
Historic Preservation and Sustainability
We could go on, and on about the Atlanta Beltline, but the best place to learn about it is at the Beltline's website.
One really cool way to learn more about the Atlanta Beltline is to take one of the tours!!! There are Bus tours, walking tours and Bike tours! You can learn more about Atlanta Beltline Tours HERE.
Learn more about Atlanta Beltline Affordable Housing HERE!
Here is just a few of the photos we took on a tour way back in 2013!!