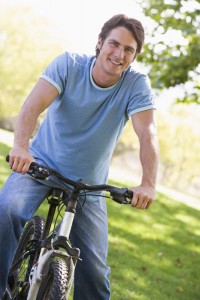 Atlanta City Councilman Michael Julian Bond is partnering with the Atlanta Bicycle Coalition to promote bicycle safety. Bond is donating bicycle lights for the annual "Let's Get Visible" initiative followed by a bicycle "Tour de Lights" on Friday, Dec. 14. He and members of ABC will hold a news conference in Woodruff Park at 6 p.m. to promote the annual initiative.
Bond, chairman of the council's public safety committee, decided to donate 200 lights to ABC's effort to ensure that all Atlanta area cyclists in need of a light have access to one. Bond will distribute the lights to ABC volunteers, who in turn will pass them along to cyclists they encounter in need during evening hours.
Georgia law requires a front white light and rear red light or reflector, but too many cyclists lack the proper lighting to be visible to drivers during winter months, when they are more likely to ride in dark conditions. While cycling is a safe activity that can add years to one's life, being seen is key to avoiding a crash. This initiative focuses on distributing lights to those who would otherwise be riding in the dark without them, especially low-income riders and students.
Volunteers riding in pairs or teams approach bicyclists riding without lights to offer a light donation. Recipients are first surprised, then grateful that the city and a nonprofit take such an interest in their safety and well-being. The Governor's Office of Highway Safety (GOHS) contributes to this project by funding the Atlanta Bicycle Coalition's safety, education, and awareness raising activities. GOHS strives to make Georgia's roads as safe as possible.
Following the light distribution, cyclists will take off for Mobile Social's Tour de Lights bike ride throughout the city, touring some of the best holiday light destinations in Atlanta. The ride will end at Westside Octane Coffee.
Friday's event is part of ABC's bimonthly Mobile Social, the organization's largest group ride that take place the second Friday of every month. The aim of these Mobile Socials is to recruit more people on bicycles, explore the city, and to support local businesses.
Sadly, the only "bike" I ride is in a gym. But this story just inspired me….and I think I just might be bike shopping soon!  Ah, then it will be the bike rack on the car…..then…wait…I'm getting carried away here! First things first!
Michael Tyler, Atlanta City Council contributed the content of this story! Thanks Michael!