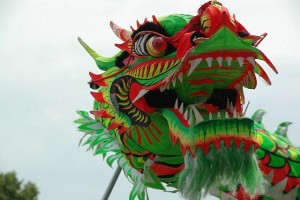 The Chinese Lunar New Year falls on February 10th this year.  According to the traditional Chinese zodiac, the new year will be the Year of the Snake, although many Chinese prefer to call it the Year of the "Little Dragon."  The Chinese New Year celebration–referred to in Chinese as "Spring Festival"–is the most important of all Chinese holidays.
The Chinese New Year holiday begins on first day of the first month of the lunar calendar with dragon dances and firecrackers and ends 15 days later with the Lantern Festival.   Spring Festival is the time for family reunions, special meals and new clothes.  Children receive red envelopes containing money from their elders and family traditions and stories are passed down from generation to generation.
Atlanta Chinese New Year Celebration February 9th & 10th
Here in Atlanta, there will be a Festival to celebrate the Chinese New Year on Saturday, February 9th from 10:00am to 4:00pm and Sunday, February 10th from 10:00am to 4:00pm at the Cultural Center of the Taipei Economic and Cultural Office in Atlanta (5377 New Peachtree Road, Chamblee, GA 30341, Tel. 770-451-4456). The Festival is open to the public.  Admission tickets are $5 per person ($2 of which is returned to you as a voucher that can be used to buy food at the Festival).
The Festival will feature the traditional dragon and lion dancers, authentic Chinese food, Chinese calligraphy and other arts and crafts, as well as traditional Chinese music and dance performances.
More details are available on Facebook  AtlantaChineseLunarNewYearFestival
Consider "Going Green" and taking MARTA to the event. Take the Northeast Line (Also Called the Gold Line) to the Chamblee Station. It's just a couple blocks walk from the station to the festival site!