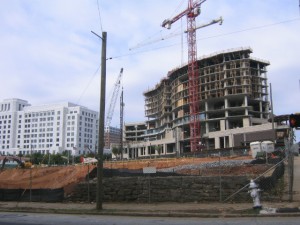 Whether you are new to the Atlanta condo market, considering a move to Atlanta, or have been here for the "ride" the last few years, you know that our market has suffered all the same troubles taht the other real estate markets have gone through.  The question for Atlanta Condominiums…Will They Rise Again?
Atlanta has gone through the less than bright economy, tightened lending, and buyers with Deer Headlight Syndrome(DHS). What is DHS? It's kind of like a deer in the middle of the highway when the car lights hit it…..they just freeze,blinded by the light and unable to move. We've even had some developments go to foreclosure (not a developer issue but a lender issue in this case) and now watched them return to the market.
Atlanta condominium sales are up over last year, but prices are down. So, Atlanta Condominiums, will they rise again?
Take a look at some current inventory numbers. In the Intown Atlanta Markets, there are currently 1,230 listings of attached homes priced at $300,000 or less. (Intown is defined by Areas 21, 22, 23 and 24 in FMLS) The number of unsold units in active condominium communities is at its lowest point since 2003.
New developments are scarce indeed. In the Midtown Atlanta Real Estate Market, you have The Atlantic Residences, 1010 Midtown, White Provisions, Viewpoint Midtown (only about 5 homes remain here) and on the fringe of Midtown, The Brookwood.
2012 very well may be the year that the prices start a climb. Inventory is really low! A search today showed some buildings with as little as 6 homes available!  Buyers, once cured of DHS will suddenly realize the options available to them are not as much as they thought.
2012 and Atlanta Condominiums. Perhaps the well know Atlanta phrase says it best…."the Pheonix rising from the ashes."