Atlanta Condos For Sale | 1065 Midtown Loews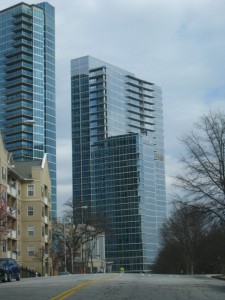 Living in a condominium has all kinds of advantages. Your own gym, clubroom, and swimming pool are some of the amenities you enjoy. The "lock it and leave it" concept of not having to worry about your home when you travel. But how about Room Service? Housekeeping? Those are a couple of the extra services you find when your condo shares a building with a hotel. THAT would be 1065 Midtown Loews.
Living at 1065 Midtown Loews offers you sweeping views from your balcony with Midtown views in every direction! Placed above the Loews Midtown Hotel, you will also enjoy the availability of the very hotel services the guests have.
Start with your 24-hour Concierge and separate lobby entrance (it overlooks the actual hotel lobby giving you a quick glance for that film star that may be enjoying a lobby cocktail). Services continue with 24 access to Exhale Fitness and discounted spa services. Want to keep your kitchen spotless? Then just ring up room service. Or have housekeeping services.
A pool is available exclusively for the 1065 Midtown Loews residents, connected to a lounge, perfect for intimate gatherings of family or friends. It's pretty cool to step out of the pool and take in the skyline before you resume that hard job of perfecting your tan!
Feature of homes in 1065 Midtown Loews are unique:
Floor Plans ranging from 1,182 to 2,819 square feet (Select from 1, 2 and 3 bedroom designs)
Intimate design with only 5 homes per floor — less neighbors to see and hear!
Private resident entrance and elevator not connected to hotel
12 foot floor-to-ceiling windows offering all-encompassing views of Midtown and Piedmont Park
Hardwood and stone flooring
Custom cabinetry and granite in Chef kitchens
Glass-walled terraces
Pre-wired for home automation
1065 Midtown Loews was always built to be condominium homes. However, the past turn in the real estate market, had the developer turn them into luxury rentals. Now, they are available For Sale! But in a limited opportunity with only 52 homes!
The location is convenient everything you want in Midtown Atlanta, including all the restaurants and retail of 12th and Midtown. 1010 Midtown, the condo building with the curve is across the street.
Midtown Atlanta condo living. Pretty cool. Having that condo at 1065 Midtown Loews. Well that's just…..amazing! Give us a call today and let's find your perfect place in the sky!
[srpmap lat="33.7833663″ lng="-84.3831882″]
1065 Peachtree Street, NE
Atlanta, GA 30309
[/srpmap]
%%ds_Results|{"SearchSetupID":"30","directive.ResultsPerPage":"10","directive.SortOrders[0].Column":"DateAdded","directive.SortOrders[0].Direction":"DESC","query.BathsMax":"","query.BathsMin":"","query.BedsMax":"","query.BedsMin":"","query.Cities":"","query.Communities":"","query.Counties":"","query.DaysOnMarketMax":"","query.DaysOnMarketMin":"","query.ForceUsePropertySearchConstraints":"true","query.ImprovedSqFtMax":"","query.ImprovedSqFtMin":"","query.LinkID":"421645","query.ListingStatuses":3,"query.LotSqFtMax":"","query.LotSqFtMin":"","query.PriceMax":"","query.PriceMin":"","query.SearchSetupID":"30","query.TractIdentifiers":"","query.YearBuiltMax":"","query.YearBuiltMin":"","query.ZipCodes":"","requester.AccountID":"11305","requester.ApplicationProfile":"WordPressIdxModule","requester.ApplicationVersion":"6.2.2","requester.ClientIpAddress":"92.220.10.100","requester.ClientUserAgent":"Mozilla\/5.0 (compatible; MJ12bot\/v1.4.8; http:\/\/mj12bot.com\/)","requester.PaginationUseActivationPath":"true","requester.PluginVersion":"3.17.1","requester.RequesterUri":"https:\/\/www.mymidtownmojo.com","requester.SearchSetupID":"30","requester.UtcRequestDate":"2023-09-27T02:15:30+00:00","responseDirective.IncludeLinkMetadata":"true","responseDirective.IncludeMetadata":"true","responseDirective.ListTabAlignment":"Left","responseDirective.ShortcodeResultsView":"","responseDirective.ShowLargerPhotos":"true","responseDirective.ViewNameSuffix":"shortcode","requester.Signature":"ea8bbce02e99623e5df3931d36a42dc216bfcbf3"}|ds_end%%