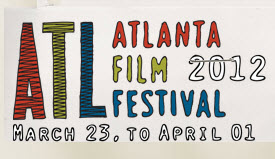 You know how it is. You live someplace, and events come and go and you never even partake of them. Hmmm. For me, the Atlanta Film Festival is one of them. I plan to change that with this years event. It will be March 23 – April 1, 2012 with most of the activities centered around the Landmark Midtown Art Cinema, located in the Midtown Promenade Center at 8th and Monroe Drive.
The Atlanta Film Festival appointed a new Executive Director, Chris Escobar who talked about the changes to the festival in a recent article in Creative Loafing's Screen Grab Movie and TV Blog. Said Escobar, "We've made pass prices much more attainable, and are adding a second block of competing animation shorts for the academy-award qualification. More excitedly, while we will still be holding the majority of the festival at the Landmark Midtown Art Cinema, we're working on finalizing partnerships with select Atlanta-gem venues to have screenings on different nights during the week days of the festival. We've shifted our schedule to both a month earlier in the year and by a day of the week to include two full weekends. We're also including music as a more present component of the festival."
Escobar was named Executive Director of The Atlanta Film Festival after a year and a half of interim directors.
You can learn more about the Atlanta Film Festival at their website. I hope to see you there!