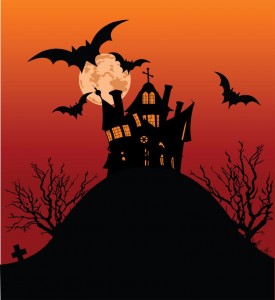 Ah…tis the season. No wait! That holiday comes later. It's time for ghosts and goblins and Atlanta Haunted Houses!  Shreeeek!
Now, in all honesty, I've never been big on haunted houses. In fact, I don't even do the costume thing. But, a good haunted house, well, that really DOES make for a Halloween!
If you are looking for a place to get your fright on, here's a couple options.
Our first is an ADULT ONLY, NO ONE UNDER 21 ALLOWED option. Hmmmm.
Chambers of Horror is Atlanta's first and only extreme adults-only, R-rated haunted house, a month-long horror attraction at the Masquerade music complex in Midtown Atlanta.  I think the website says it all….
"THERE EXISTS A PLACE…
WHERE YOU CAN LIVE YOUR WILDEST DREAMS…
YOUR MOST DEVIANT FANTASIES…
YOUR SICKEST PLEASURES…
WHERE YOU CAN FEEL SOMETHING AGAIN…
If you go, will you be sure to come back here and post a comment about your experience…if you can!
One of the most frequently asked questions on this site is "Is it scary?" They respond with a rather complicated answer. "Yes."
Again, let me know if you make it back.
For many years, 13 Stories Haunted House has been striking fear in the hearts from all over. In 2011, their outside attraction has been revamped and is now called BIG TOP SECRET in 3D. (I can ONLY imagine!) The outside does not give a clue as to what the inside has in store for you.
Ok, just writing this post made my heart race. Again, if you visit any of these Atlanta Haunted Houses, please stop back here and give us a first hand account of your experience.
'Cuz Lord knows I'm not going through one of these! I'll stick to handing out candy to the kids!
13, was added outside our location to add extra value and thrills for our customers.  In 2010 Maximum Evil was our second attraction and was a huge hit.  But new for 2011, our outdoor attraction is being revamped and transformed into an all new attraction, something never before seen.  The name of the attraction/project is called BIG TOP SECRET in 3D.  The outside views of this haunt are very deceiving.  You must experience Big Top Secret in 3D to know what goes on inside.  You will not soon forget your experience insode Big Top Secret!