Search Atlanta Homes For Sale in the 30022 Zip Code (Alpharetta Area)
The Zip Code 30022 covers parts of Alpharetta and Johns Creek, Georgia, suburbs of Metro Atlanta. The center point of the Zip Code is located approx. 26.9 miles from Downtown Atlanta!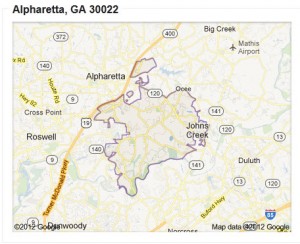 Street and Roads that would be associated with this area would be Old Alabama Road, Jones Bridge Road, Old Milton Parkway and State Bridge Road.
%%ds_Results|{"SearchSetupID":"30","directive.ResultsPerPage":"5","directive.SortOrders[0].Column":"Price","directive.SortOrders[0].Direction":"DESC","query.BathsMax":"","query.BathsMin":"","query.BedsMax":"","query.BedsMin":"","query.Cities":"","query.Communities":"","query.Counties":"","query.DaysOnMarketMax":"","query.DaysOnMarketMin":"","query.ImprovedSqFtMax":"","query.ImprovedSqFtMin":"","query.ListingStatuses":3,"query.LotSqFtMax":"","query.LotSqFtMin":"","query.PriceMax":"","query.PriceMin":"","query.SearchSetupID":"30","query.TractIdentifiers":"","query.YearBuiltMax":"","query.YearBuiltMin":"","query.ZipCodes":"30022","requester.AccountID":"11305","requester.ApplicationProfile":"WordPressIdxModule","requester.ApplicationVersion":"6.2.2","requester.ClientIpAddress":"110.249.202.52","requester.ClientUserAgent":"Mozilla\/5.0 (compatible; Bytespider; spider-feedback@bytedance.com) AppleWebKit\/537.36 (KHTML, like Gecko) Chrome\/70.0.0.0 Safari\/537.36","requester.PaginationUseActivationPath":"true","requester.PluginVersion":"3.17.1","requester.RequesterUri":"https:\/\/www.mymidtownmojo.com","requester.SearchSetupID":"30","requester.UtcRequestDate":"2023-09-27T09:30:34+00:00","responseDirective.IncludeLinkMetadata":"true","responseDirective.IncludeMetadata":"true","responseDirective.ListTabAlignment":"Left","responseDirective.ShortcodeResultsView":"","responseDirective.ShowLargerPhotos":"false","responseDirective.ViewNameSuffix":"shortcode","requester.Signature":"ba7dd435c02a5022946b205491fd6225f3858c98"}|ds_end%%