An informative post, but some what of an editorial one as well!
Atlanta is on the rise again! Cranes are coming out of the ground in Midtown and Buckhead as new apartment towers start to take shape. And yes, even the suburbs are on fire again as homes are being built and excess lot inventory is dropping to even critical levels in some areas!
But, is Atlanta Ready (or Willing) to embrace transit as a way to get to and from work? The first portion of an Atlanta Streetcar will open later this year in Downtown, between the Centennial Olympic Park and the Auburn District. Hopefully more to come in the future? Expansion of the MARTA rail line is doubtful due to the cost. So that leave bust transit, probably the most cost effective. So, will Atlanta embrace it…and will we need or use a Downtown Multi-Modal Transit Terminal like this?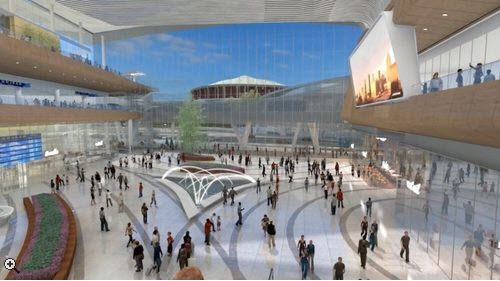 Stories about the 119-acre development in the heart of Downtown Atlanta (can you wrap your head around the fact that a major metropolitan area HAS 119 acres in its DOWNTOWN to develop in the first place?) have appeared in both the Atlanta Business Chronicle and Curbed. com. It seems the folks at Curbed.com got access to a video that has since disappeared from any and all of the links referenced in each story. But you can see some more of the plans in the Curbed.com article here. 
What do you think? Do you see Atlantan's headed to Downtown from the burbs on buses?