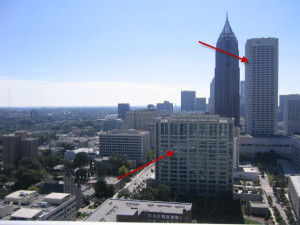 The telecommunications company, AT&T has announced plans to create nearly 600 jobs in Georgia.
AT&T is hiring full- and part-time employees in network construction and maintenance, customer support, retail and other positions. The company plans to begin filling these positions immediately.
The announcement did not say WHERE the jobs would be located. AT&T has a large presence in Midtown Atlanta with two office buildings, as noted on the picture! If any of those jobs are in these buildings, potential employees can walk to work from any number of Midtown Atlanta condo buildings!
Certainly saves on your car and your gas bill!