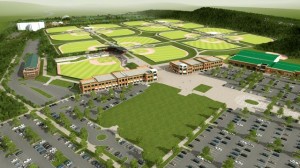 BARTOW COUNTY, GA – It sounds a little like the plot from the movie Field of Dreams.
A group of private investors is betting that "if you build it, they will come".
They're counting on more than 3 million people a year showing up.
Nine months after first announcing a huge youth sports complex to be located in Bartow County, they are on their way to realizing their dream.
That dream could also mean thousands, possibly tens of thousands of jobs.
Among the investors are former Atlanta Braves Manager Bobby Cox, current Braves Manager Fredi Gonzalez and Kansas City
Royals Manager Ned Yost.
For more of the story, click here.
And in case you want to know where Emerson, Georgia is in relation to Midtown Atlanta….