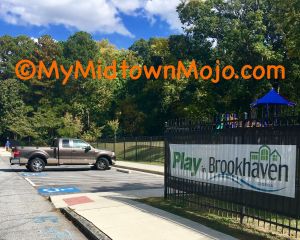 The Brookhaven real estate market is still moving, and we wanted to "take it's pulse!" So let's look at the Brookhaven Market Report October 2018.
First, a look at the condominium and townhome market…and a disclaimer. The numbers for this report were taken from FMLS (First Multiple Listing Service) and we searched simply by the city name, Brookhaven. So if a specific property was listed incorrectly, it would not be a part of this report.
For October, there were 83 active listings, ranging from a Keys Lake 1-bedroom at $110,000 to a 4-bedroom at Brookhaven Wiltshire for $1.199M. In the chart below, you can see the average days on market to be 59, but a listing at Lenox Bluff at Lenox Park has been on the market for 363 days! It should be noted that at the time of this report we counted 12 homes that were under $200,000 in Brookhaven! You won't see that much longer!
28 listings were Under Contract, and ranged from $158,000 at Keys Lake to $824,900 at the Brookhaven Wiltshire.
26 homes sold (or closed) in October in Brookhaven. They ranged in price from $182,000 at Keys Crossing for a 2-bedroom home to a 3-bedroom at Bramley Park at $896,000.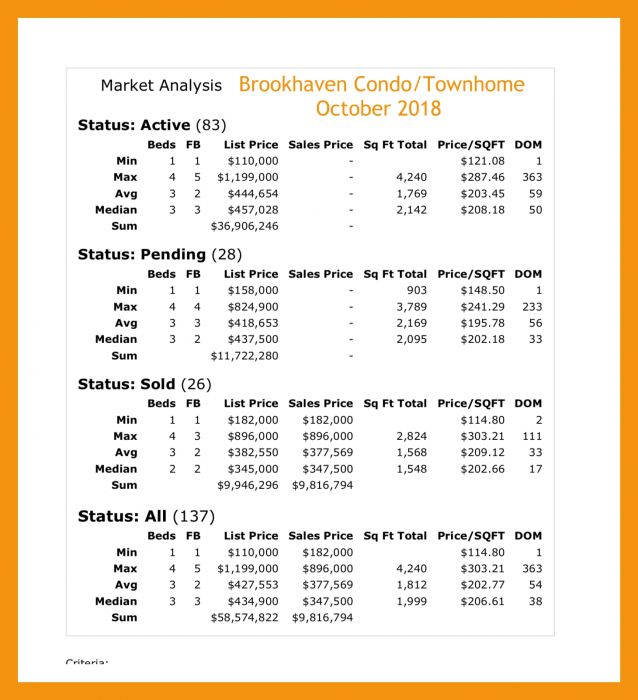 In the Single-family market in Brookhaven, there were 151 homes listed For Sale. They range from a 3-bedroom in Ashford Park for $299,900 to a home on Brookhaven Drive for $3.15M.
There were 26 homes Under Contract ranging in price from $354,000 in Ashford Park to $2.75M in Historic Brookhaven.
27 homes sold in October, ranging from $299,900 on Wayside Drive to $1.230M on Duke Road in Ashford Park.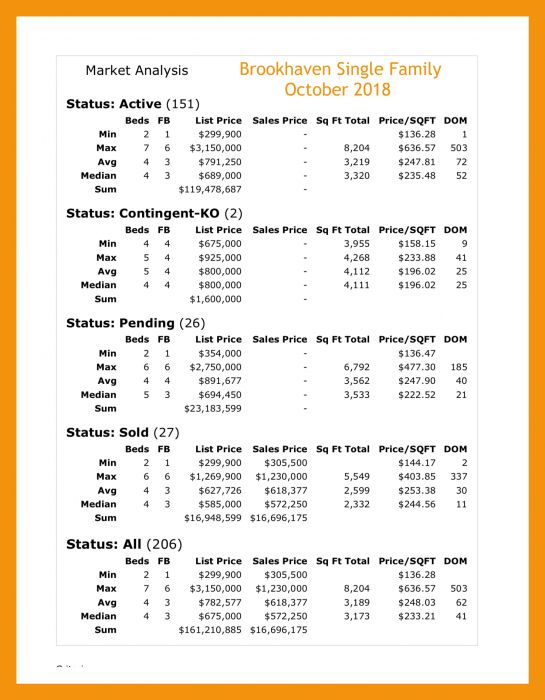 Keep in mind, this Market Report is a "snapshot moment in time" of what is happening in the market, and is a view at, say 30,000 feet. What may be happening with sales and prices in your condominium or townhome community could be much different that what is selling across the street. And the same is true for single family homes as well.
If you are looking to Buy or Sell a home in Brookhaven, MyMidtownMojo.com can help! We hope this Brookhaven Market Report October 2018 gave you some helpful information!
Selling? Do you want to sell your Brookhaven single family home or condominium? Call us today at 770.713.1505 to schedule a free market analysis of your home. Or, complete our Seller Information Form and we will be in touch with you!
Buying? Are you looking to buy a Brookhaven home or condo, or townhome? We can set up specific searches for you based on price, building or other specifics you may be looking for. In a competitive Seller's Market, we can alert you of new listings within minutes of them hitting the market! Just complete out Buyer Information Form, or let's schedule a time to talk about what you are looking for!
Contact MyMidtownMojo and Thomas Ramon Realty@Palmer House Properties at 770.713.1505 or Info@MyMidtownMojo.com for all your Brookhaven real estate needs!