Real estate prices have certainly changed from a few years ago. That is no surprize to home sellers or buyers. And how much you are willing to spend/can afford will ususally dictate where you will be able to buy. So the question is, Can I Buy a Midtown Atlanta Condo for Under $60,000? The answer is a sort of yes.
Sort of yes, because in Midtown proper, your options are very limited. Many people have many "descriptions" of what encompasses Midtown Atlanta. Of the 46 listings that came up in a search today, only 6 of them are in Midtown. The rest are in surrounding areas, that to most, would consider them in Midtown Atlanta. Some of the condos in our search are as far away as Cheshire Place Condominiums on Cheshire Bridge Road near LaVista Road. Others are at City Heights Condominiums on Ralph McGill Blvd. NOT MIdtown proper, but to most, they would call this Midtown Atlanta.
Here is a map of our search, followed by the listings in the area. If you see a particular home you are interested in, why not contact me and we can schedule a personal showing!  NOTE: You will notice some listings that are nowhere close to Midtown Atlanta. This is because the listing agent entered them in the wrong area and they are showing in the wrong search!!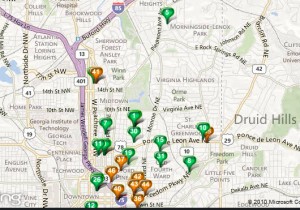 Sorry, but we couldn't find any results in the MLS that match the specified search criteria.