If you have not ventured down Sandy Plains Road and Veteran's Parkway in Fayetteville (that would be South of Atlanta) then you have missed what has become one of the largest movie studios in the Southeast….Pinewood Studios Atlanta! It has been growing by leaps and bounds, and has been home to some impressive movie productions, including Marvel Comics Ant Man and Captain America to name a couple. It has its own Home Depot to service the productions, and Enterprise Rent-a-Car has a location there as well. I read somewhere it is one of their most profitable locations?
Sure, there are places to live all around Fayetteville and neighboring Peachtree City. But nothing like what is coming now. And that would be Pinewood Forrest.
Pinewood Forrest Coming to Pinewood Studios Atlanta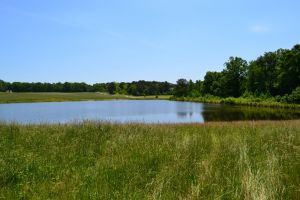 The development's Phase One will be some 234 acres and include about 1,300 residences, hotels, shops, restaurants and office space. The site plan below calls for three "districts," named Culinary, Garden and Craft. There is also talk of a large performing arts center too.
All of this will be located on land across Veteran's Parkway from the studio site. (It's possible the lake you see is the existing lake as shown in this photo on the right.
Here is the initial site plan that was presented at the ground breaking event in July.
And now a promotion video about the development is out…
We will be out to look at the construction in the next few days and get some updates out!
Exciting times at Pinewood Studios Atlanta!