Comcast Southeast Headquarters is looking for a new home which might include the addition of some 200 corporate-level positions. The company's current office location is at Courtyards Drive in Norcross. A Google Map and directions (shown below) shows about a 20 mile commute from Midtown Atlanta to the current office location.
Comcast Southeast Headquarters employees that are looking for a more urban, walkable community will want to consider Midtown Atlanta. While a majority of the housing options consist of condominiums and townhomes, there are single family home neighborhoods close by.
The map below shows an outbound commute time at 6pm, NOT an 8am or so time that you might be headed OUT to Norcross from the Midtown Area. At this time of the evening, your inbound commute from Norcross way still take in the neighborhood of 40 minutes, as you will encounter most of your rush hour traffic at the GA400/I-85 merge coming into Midtown.
If you are looking for condominium-type living closer to the Norcross office location, Norcross will offer townhome communities, but not much in the way of actual condominiums. The future re-development of the General Motors site in Doraville (at I-285 and I-85) will most likely offer some options, but those will be a couple years in the making…at least.
If you are looking for a single family neighborhood close to the Comcast Southeast Headquarters, there will be numerous options for you to choose from!
We look forward to helping you find just the right place to call home when you relocate to Atlanta!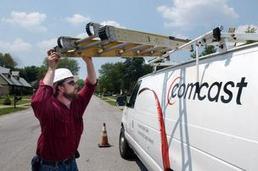 The technology and media company could be scouting for about 150,000 square feet of office space. The Fortune 50 company could also locate a data center and call center operation in metro Atlanta.
Source: www.bizjournals.com
See on Scoop.it – Midtown Atlanta Conversations and Condos