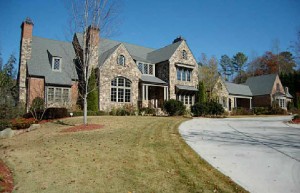 It seems that Chipper Jones has finished up with the Atlanta Braves and his little 23,000 sq. ft. bungalow in North Fulton.
According to the AJC, he's already purchased another home in the Atlanta area. With such details as 7 bedrooms (lot's of room for the visiting family?) and a 6- car garage (ok, now I'm in love with it) it's priced about 25 percent less than the former Atlanta Braves third basemen paid for the home. It's listed at $3.2 million.
Interested? I'd be happy to schedule a showing for you. I suspect you will need to prove your financial ability to purchase the home first.
We're sorry, but we couldn't find MLS # 5092957 in our database. This property may be a new listing or possibly taken off the market. Please check back again.