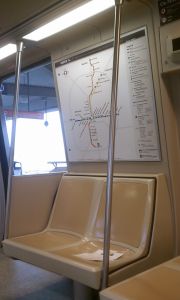 A world-class city needs world-class transit. And let's face it, a rail system that runs the limited places it does like MARTA, does not a world-class city make.
Citizens For Progressive Transit
Most can agree that is one of the major reasons that the recent hunt to land the Amazon's HQ2 did not end up in Atlanta. Our transit just doesn't take you many places. But what we DO have makes one want to consider where they live to have access to the MARTA. Cities we cover like Doraville, Chamblee, Brookhaven, Buckhead and Midtown all have transit stations.
We always read, and like to share the Citizens for Progressive Transit newsletter to our readers and website visitors. It has some great information.
The November, 2018 issue goes further into the new ATL regional transit authority. All 16 Board Members are in place, but the face a complicated task…for sure. Coordinating a transit system between some 13 counties in the Metro Atlanta region. That is just plain…YIKES!
How many non-MARTA counties will pass a sales tax required to participate in the plan? (After my 45 minute ride to Midtown this morning in bumper-to-bumper traffic starting BEFORE Clairmont Road…you'd think all of them, right?) But I'm going to guess there will be some that say No to Rail. And one can't say how sad that really sounds.