City in the Arboretum Conference
An arboretum (pl: arboreta) is a collection of trees and other mostly woody plants that are cultivated for display, educational, and scientific purposes.  Typically, an arboretum is located in a garden- or park-like setting.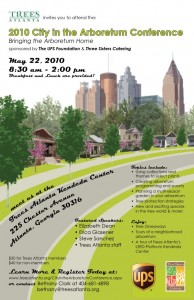 If you are a nature lover, and especially love trees, then this might be just the event for you. Trees Atlanta presents the 2010 City in the Arboretum Conference, May 22 from 8:30am to 2:00pm.
Sponsored in part by The UPS Foundation and Three Sisters Catering, topics will include:
Using collections and themes to select plants
Creating arboretum programming and events
Planning a multi-season garden in your arboretum
Tree Protections strategies ( important in drought conditions!)
New and exciting species in the tree world & more!!
The event will take place at Trees Atlanta Kendeda Center, located at 255 Chester Avenue, Atlanta, 30316.
The cost for the event is $30 for Trees Atlanta members and $40 for non members. Breakfast and lunch ARE provided! You can click here to register for the event.
Atlanta is known for its trees, but we've also seen many of them disappear in the way of developmental progress. Trees are in important part of our lives and eco system. This is a great opportunity to learn more!! Plan on attending the 2010 City in the Arboretum Conference.