Note: this post was originally written in June, 2010, but never posted!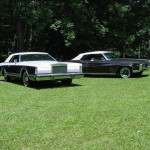 Classic Car Commercials — But this is a modern one!
Many were glued to the TV yesterday as the U.S. played the British in the World Cup. I didn't recall there being many commercials as we are use to with our U.S. sporting events. So, I was delighted when I picked up off of one of my Atlanta friends, Colin Ake, this commercial that aired during the game.
It's just awesome. Enjoy! And Enjoy your Sunday!