Coca Cola to Renovate Atlanta Headquarters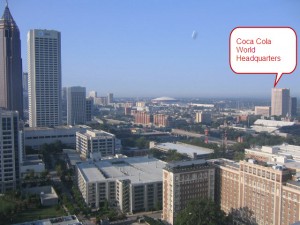 The folks at Coke are going to spruce things up a bit. It's going to take them 4 to 5 years to complete a major overhaul of their Atlanta "campus," but never fear. You won't even know its going on.
Currently, some 4,000 people (who knew?) work  at the building located on North Avenue, to the North and East of Downtown Atlanta. While not a building of note, it does stand out with it's logo across the top. The mostly visible 29 story building was built in 1979.
The renovation plans will take place entirely inside the building as hopes to design spaces that will lead to greater collaboration and productivity, with improved technology design consistency. (Hmm, a Coke dispenser NEXT to my cube, not across the hall?)  The plan is still being developed, but Coca-Cola predicts changes to common areas will be visible early next year. Mind you, that is visible to employees. Have you ever BEEN INSIDE the Coca-Cola building? I liken it to a visit to the White House, and I was privy once to go inside the building when Coke was my account in my hotel sales days. It was cool then, especially the cafeteria are with its own Coke store….and yes, I have a nice Coke Truck to show for my visit there.
Coca-Cola is buying  the North American operations of bottler Coca-Cola Enterprises in the fourth quarter.  CCE has around 2,300 employees in the Atlanta area. It is unclear how many of them will move to Coca-Cola's North Avenue complex after the $12 billion-plus deal closes. Coca-Cola says it is too early to speculate on staff movements.