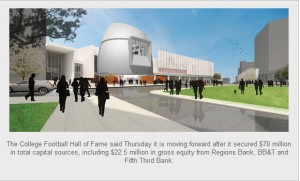 I've often wondered what would draw a potential traveler to Atlanta on vacation? Maybe because I live here, I don't think of it as a vacation location. But, there is quite a few things to do, and by 2014, you'll be able to add one more reason to visit Downtown Atlanta.
The College Football Hall of Fame has secured $74 million in total capital sources, including a $22.5 million loan from Regions Bank, BB&T and Fifth Third Bank. Total project costs are estimated at $66 million.
The facility will be built on the Green Lot, next to the Omni Hotel and the Georgia World Congress Center, with access to the building from both the street AND inside the GWCC. Plans for the 90,000-square-foot facility, include a football field that will serve as an event space and 30,000 square feet of exhibit space.
Certainly, adding an attraction like this to the Downtown mix of the Georgia Aquarium, World of Coke, Centennial Olympic Park and the CNN Center are going to help our vacation location!
The College Football Hall of Fame move was announced in 2009, but has been struggling to get the necessary funds to begin construction.