College Football Hall of Fame Selects Atlanta Site

It appears that the "tourist center" of Downtown Atlanta is going to gain another attraction! The Atlanta Business Chronicle reported last month that the College Football Hall of Fame appears to have selected their preferred site…a parking lot on Marietta Street, close to CNN Center and Centennial Olympic Park.
The article states there are several issues to we worked out before any deal is signed however. And that will be some 8-10 months in the making. This might be a good thing, giving the economy time to rebound and travelers willing to spend money on such attractions.
The NASCAR Hall of Fame that Atlanta bid on and lost (darn it…that would have been a good one…or so I thought) which opened in Charlotte in May of this year has been running a deficit and has had challenges with visitors. The museum set an attendance goal of 50,000 people per month, but attendance for BOTH July and August totaled 55,000 people.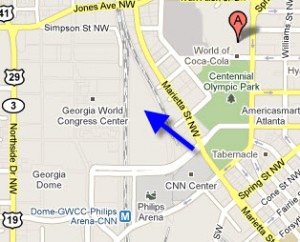 This map shows the proposed location of the College Football Hall of Fame and its proximity to many of the Downtown Atlanta attractions, such as World of Coke and the Georgia Aquarium. This is all good as Atlanta NEEDS to work on its draw for tourists and convention attendees. While the city has great hotel rooms and the Georgia World Congress Center, it lacks in the way of entertainment for both tourists and convention attendees.
We will keep tabs on this project and let you know how things develop for the site and the projected date of opening.