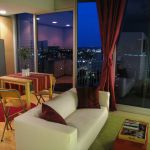 Depending on the size of condominium you may have purchased in Atlanta, you could have a large living room, or it could be part of a smaller space, combined with the dining area, and even open to the kitchen. Condo Living Rooms can be small, medium or even large!
The interior design of many condos offer cool spaces where you can do an accent paint color, like along the dropped ceiling that as the HVAC and vents in it.
What's YOUR condo living room look like?