Seriously, you have to love the buzz that Midtown Atlanta is getting these days! All these plans and proposals (some definite, like NCR and some still out there like GE) make for exciting times in the real estate market! Buyer and Sellers….Beware!
Could GE Join NCR Corp in a new Midtown Atlanta Headquarters?
The Atlanta Business Chronicle reported today that even though GE has not yet set their little footies in Atlanta, there are some key players (a.k.a. incredible sites) that want to be ready to show them the town…Midtown Atlanta that is!
GE is drawing interest from multiple cities (Dallas being one of them) but the City of Atlanta and Georgia has already  met with GE. The potential relocation comes on the heels of a recently passed tax package in Connecticut that did not sit to well with GE. CEO Jeffery Immelt formed an exploratory committee, seeking a more "pro-business environment." And we know that Governor Deal and Mayor Kasim Reed are all about the business in Georgia and Atlanta!
The ABC article included a rendition of how the GE headquarters could look as part of Atlantic Station. Here is that idea…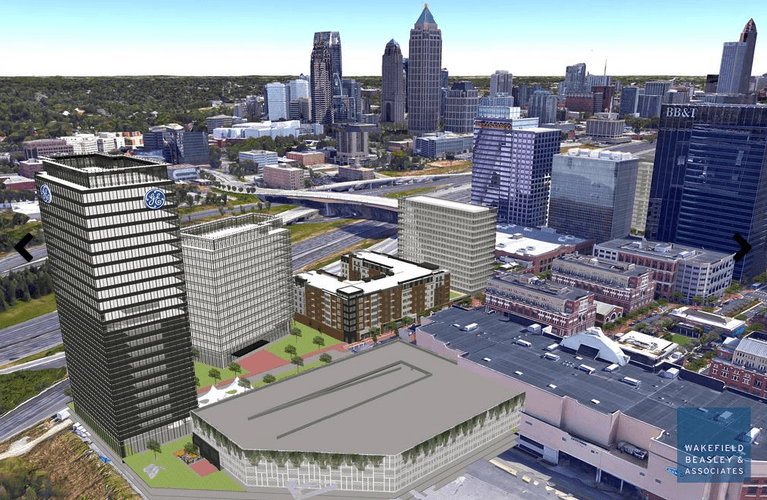 Ok….this is awesome news. Now, will some architect PL-E-E-E-E-E-ZE step up to the plate and design something that will truly WOW the 300,000 cars on the Downtown Connector Daily!!!! I mean….ANOTHER square block building?  The article states:
GE leadership sees a move from Connecticut as possibly the best opportunity to remake the company, turn away from appliances, and put a greater emphasis on software development, industrial technology, or manufacturing, Atlanta Business Chronicle has reported.
Well then…if you want to remake your company, start with a truly landmark office tower that says, "Oh heck yeah…we are HERE!" And of course this is yet another location that is prime to tap the talent pool  that IS Georgia Tech!
To give you your bearings on where this could possibily happen…the photo below I took when the Cirque Du Soleil was set up…so the proposed GE tower would be about where the white tents are.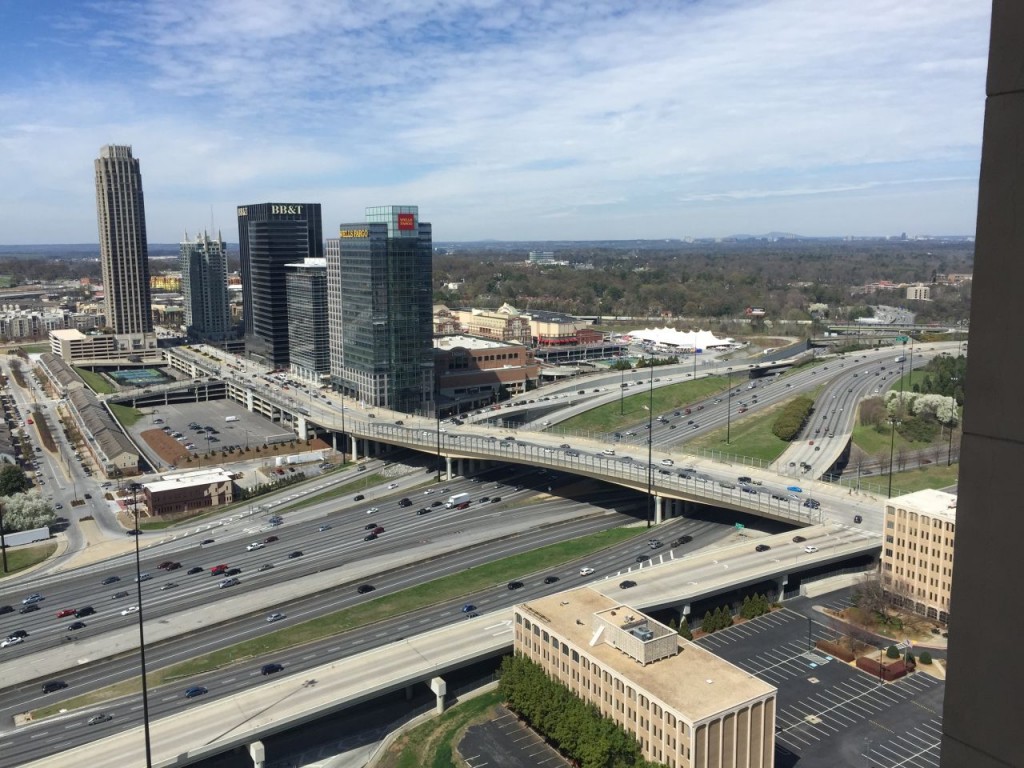 So, you can SEE why that is a killer location for an architectural masterpiece!
Let's keep our fingers crossed that Midtown Atlanta scores another great corporate relocation….and that Midtown Atlanta might score something impressive for it's skyline!