See on Scoop.it – Midtown Atlanta Conversations and Condos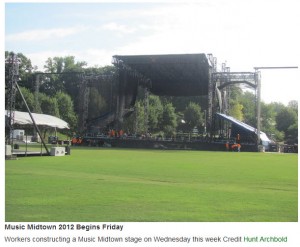 Music Midtown 2012 is virtually here as tens of thousands of music-loving fans will be pouring into Piedmont Park on Friday and Saturday. It's an exciting event featuring some very popular musical acts, but not everyone is whistling a happy tune.
There are concerned residents from neighborhoods that surround the park who wonder why Midtown must bear the burden in order for the rest of metro Atlanta and visitors to party during a string of spring, summer and fall festivals and events staged in and near the park.
Some contend it's just part of the deal that comes with living in Midtown. Still, others want to insure that Midtown and Piedmont Park doesn't get taken advantage of. Piedmont Park Conservancy (PPC) Director of Public Relations & Marketing Aimedra Kelley wrote in an email to Midtown Patch:
"Piedmont Park does not benefit from events like Music Midtown. Even though Piedmont Park hosts 85 percent of all permitted events in the City of Atlanta, there is no direct funding from those events supporting Piedmont Park Conservancy's effort to maintain the Park. All of the funds raised from Conservancy events like Season of Magic, The Green Concert and more directly support the care and continued maintenance of Piedmont Park."
The City does receive financial compensation from Live Nation Entertainment, which produces Music Midtown. According to City of Atlanta Special Events Coordinator Adrienne Wright, the City receives $250,000, plus $1 for each ticket that is sold that is contributed to Mayor Kasim Reed's Centers of Hope initiative, which helps fund recreation centers and after-school activities for young people in the city, including upgrades to computer labs, security and other IT needs.
As is the case with all gated, ticketed events at Piedmont Park, it is up to the promoter to repair any damage sustained by the park, including turf damage. This year, the base of the two Music Midtown stages will have been in place for a full week before they're removed.
See on midtown.patch.com