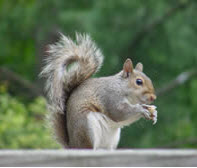 Or maybe squirrels in your storage? If you live in Atlanta, you know we have our fair share of varmints ranging from those oh to cute looking squirrels to possums, snakes and bees! Oh yeah!
While 99% of these animals may not be a nusiance to condo dwellers (depending on whether you live in a mid-rise or high-rise building, they certainly can present problems for the rest of us!
If you think you've got some of these pests, you are wise to seek the help of a professional company to help in capturing them. This post was inspired by a Twitter follower I picked up this morning, Southern Wildlife Management. Now, I've never worked with these people, so I'm not endorsing them specifically, but they would certainly be one place to start to look for help with helping your varmints pack up and move on!