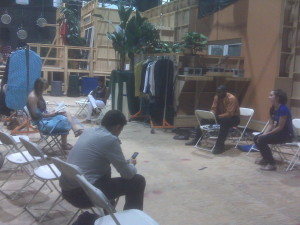 Unless you've been hiding under a rock as of recent, there is a pretty big new industry in Georgia, and the metro Atlanta. Call it "Hollywood South" or whatever, the movie industry is making a huge impact in the Atlanta area….and some seem to question if it's all good or not…..
The Atlanta City Council is attempting to create an Atlanta Film Office within the Mayor's office to help with the permitting process and all for the large number of film projects that are happening here…and are sure to grow even larger as two new massive movie production facilities are proposed, or under construction in the Atlanta area.
Here is a link to the story in the Atlanta Business Chronicle. (Note: if not a subscriber to the newspaper, you may not be able to read the entire story…I've posted the text to it below.
I have a business associate that has just returned from Los Angeles….a city where the movie industry is a common as….a Waffle House restaurant in Georgia! And LA is taking note of the amount of work that is leaving Los Angeles and coming to Atlanta and Georgia!  As with any new industry, there can be "growing pains" But having worked on numerous movie sets, I've always seen these production companies come in and set up, and clear out when they are done.  Do they block streets? Yes. Do they have big production trucks? Yes. Do they bring revenue into the city and state? YES! Are they giving work to local people, from actors to carpenters? YES!
I think we should not "cut our nose off to spite our face" when we look at the impact of this industry, both on the neighborhoods where they film, but on the economic impact they are having.
"I-75 Movie Interruption OK'd by DOT —By Carla Caldwell
The film crew that obstructed Interstate 75 off and on for about four hours Wednesday did so with the informal approval of theGeorgia Department of Transportation. Such disruptions are raising questions about how much power the state's growing movie industry should have to affect daily life for residents.
A DOT spokeswoman says no permit was required Wednesday when crews used I-75 in Bartow County to film scenes for "Need for Speed," because traffic was "paced" and never fully blocked, reports Atlanta Business Chronicle broadcast partnerWXIA-TV. Motorists said they were delayed for as long as 35 minutes, the station reported.
WXIA says that while Georgia is becoming accustomed to the movie industry's occasional interruptions of daily life, this delay stood out. It happened on an interstate highway that carries more than ten thousand vehicles per hour through Atlanta, according to federal highway data. And, it overlapped with the fringe of Atlanta's afternoon rush hour.
A state DOT statement says, "We realize that some motorists were impacted yesterday by delays from the traffic pacing." It says the state is developing a "framework for a statewide policy on how best to accommodate the film industry with the least impact to motorists."
Governor Nathan Deal said filming interruptions are a balancing act — and Wednesday's shoot, a potential learning experience. Deal stressed that Georgia has benefited from its film-friendliness.
Meanwhile, down the road in Atlanta on Wednesday, a group of Atlanta residents criticized a proposal to create a city of Atlanta film office.
Several members of the Atlanta City Council introduced an ordinance in May to establish an agency inside the mayor's office to help movie and TV producers get the building permits and traffic approvals needed to film in Atlanta.
 During a public hearing Wednesday, several city residents complained the ordinance doesn't offer enough protection to homeowners and businesses disturbed by filmmaking crews.
"The film industry seems to have carte blanche to come in and run all night," said Dick Nicholson, a resident of Midtown Atlanta and chairman of his condominium association's external affairs committee. (NOTE: I think that should be Nick Nicholson)
Councilwoman Felicia Moore said she has heard similar objections from people in her council district and that a work session would be held soon to further examine residents' concerns.