Doraville has come and sort of gone…and is now on the rise! Savvy real estate buyers looking for the next "hot-spot" in Atlanta real estate would be wise to keep an eye on this sleeping gem!
History of Doraville
Like most of the smaller "towns" around Atlanta, Doraville got its start from the railroads that were the 1800's.
Doraville was incorporated by an act of the Georgia General Assembly, approved December 15, 1871. From that time, really until the 1940s, Doraville was a small agricultural community that served the interests of a larger surrounding farming area.
At the end of World War II, Doraville was on a main railroad line, and had a new water system available. When General Motors selected Doraville as the site for its new assembly plant, Doraville exploded in the late 1940s and the 1950s as a result. One of the first subdivisions of Doraville came in late 1940s. Southern Builders and Engineering Company proposed plans for Guilford Village, a 112-home subdivision at Tilly Mill and Flowers Roads that covered some 58 acres. The city later added Northwoods in 1949 and Oakcliff in 1958.
Doraville and neighboring Chamblee are international in both residents and businesses. Plaza Fiesta in Chamblee serves much of the Hispanic community as a community-type square where families gather on weekends. Buford Highway is dotted with restaurants of a variety of international cuisine.
Early progress in the form of MARTA took an initial toll on Doraville's historic downtown area. What few historic buildings the city had, were destroyed.The Doraville MARTA Station was built in 1992. New plans which include the re-development of the former GM Doraville plant have a vision to re-create a new "Main Street and Park Avenue." Doraville is also the last stop on the MARTA Gold Line, and the parking lots are filled daily with commuters from further-out suburbs that drive to the station and finish their commute on the train. As such, development on MARTA parking lots, as seen elsewhere in the Metro Atlanta region has not happened in Doraville.
Living in Doraville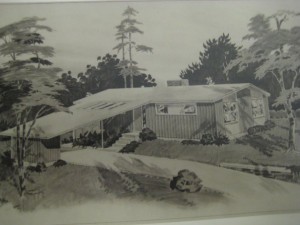 Doraville contains a large stock of mid-century modern houses, probably the largest concentration in metropolitan Atlanta. Mid-Century architecture was very popular with residential structures and bringing modernism into the suburbs that were developed following World War II. This is when the majority of homes in Doraville were constructed. This style emphasized creating structures with ample windows and open floor plans, with the intention of opening up interior spaces and bringing the outdoors in. Many Mid-century houses utilized a style often called a "California ranch" that eliminated bulky support walls in favor of walls seemingly made of glass. Ceilings were open with no attic space and exposed beams. Function was as important as form in Mid-Century designs, with an emphasis placed specifically on targeting the needs of the average American family.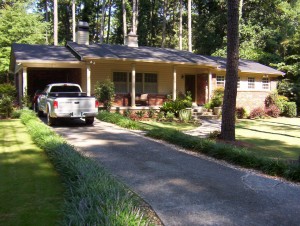 While the style is seen throughout Doraville, the Northwoods and Northcrest (located outside I-285 off Pleasantdale Road) neighborhoods are the most well-preserved Mid-Century modern neighborhoods in the city. In Northcrest, over half of the homes are Mid-Century moderns, while Northwoods, which gained historic status in 2014, is one of only three surviving mid-century planned communities in Georgia.
(Here is a link to more information about Northwoods Area Neighborhood Association!)
Neighborhoods in Doraville have seen spots of in-fill housing (new construction where there was either vacant land or an older home was torn down) but no major new subdivisions or new construction. The recently announced plans for the GM Doraville Plant will bring an exciting new influx of living opportunities.
1/20/2015 — NOTE — I'll continue to add and update this page. I'll also create separate pages for communities, business and such for Doraville as this area of Atlanta looks to see a growth explosion!