We hate to see empty retail space, especially when it comes to Midtown Atlanta real estate.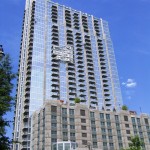 So I was excited to hear that Evos Midtown is reopening in the same location in Viewpoint Midtown Atlanta. If you missed this restaurant the first time it was open, don't let it happen a second time!
I'll be there on Friday for sure, and will be doing a follow up post to the event. But, here's a little something for you!
Hope to see you at Evos Midtown Atlanta this Friday!