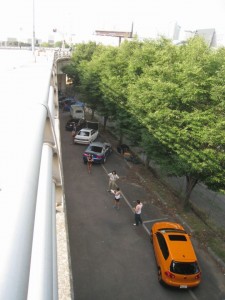 I've worked with many individuals relocating to the Atlanta area because of our ever-growing film industry. And yes, you look around and new sound stages and/or studios are going up everywhere. And there is good reason to think this will be an industry that will be around for some time to come.
Five Reasons Why Film Is Here To Stay in Georgia
I just read this article this morning online in the Southern Political Report Magazine. I'm sharing the link with you for you to read the entire article.
But in summary:
Georgia has one of the best film incentive programs in the country by several measures.
Not only does Georgia have a strong incentive program, but it is well known in the film industry as being stable.
Studios and related businesses are being constructed, moving from other states or expanding.
Georgia is one of only two states (New Mexico is the other) that have developed a statewide centralized a crew training program in its higher education system.
Georgia has a number of indigenous features that make it attractive for film production.
We are delighted to help the many people moving here. With the diverse location of studios (Pinewood Atlanta in Fayette County, Eagle Rock and Atlanta Media Campus in Gwinnett, Mailing Avenue and Tyler Perry Studios in Atlanta…and the list really does go on…..) many of our clients have found the central location of Midtown or Buckhead as the place to live. Having easy access to The Downtown Connector (I-75/85) and GA400 make it easy to get to and from any set or studio in the metro Atlanta area. Additionally, the access to MARTA in Midtown makes getting in and out of the city with access to Hartsfield Jackson International Airport easy for many of these people that can be on tight schedules.
Yep. The film industry is here in Georgia in a big way. And we are happy to help you find the place to call it home!