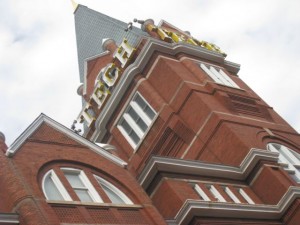 See on Scoop.it – Other Atlanta News Events
Georgia Tech's engineering college has been named No. 1 for Hispanic graduate students by Hispanic Business magazine, marking the fifth year in a row that the college has grabbed the top slot.
Hispanic Business, which highlights trends in Hispanic markets, released the news on its website. The College of Engineering was singled out for factors like its academics and campus climate, as well as efforts to recruit and retain Hispanic students.
As of September, the College of Engineering boasts 132 Hispanic or Latino graduate students.
"This honor reflects the college's longstanding commitment to diversity," Gary May, dean of College of Engineering, said in release. "We've made important strides in recruiting Hispanic students and promoting a supportive atmosphere. A diverse student population enhances the environment for learning and provides for both personal and cultural awareness."
Georgia Tech established its Office of Hispanic Initiatives in 2002 and offers a number of activities, such as the annual Latino Welcome Weekend, to enrich the educational experience on campus. The office aids in recruiting high-achieving Hispanic and Latino students. More than five percent of the total student body is Hispanic or Latino. To help attract Hispanic and Latino graduate students to campus, doctoral students at Georgia Tech are eligible for the Goizueta Foundation Fellowship, which offers an annual stipend of $4,000.
"I think all of us should be very proud of the Institute's efforts to serve our Hispanic/Latino students, other underrepresented minorities, as well as the entire Georgia Tech population," Jorge Breton, director of the Office of Hispanic Initiatives at Tech, said in a release.
Breton also commended members of the Tech community for their outreach efforts, including the Latino Organization of Graduate Students (LOGRAS), whose goals include easing the transition for Hispanic students new to the Institute.
See on midtown.patch.com