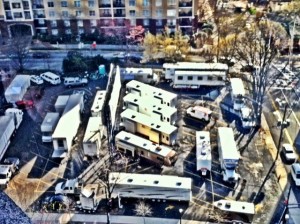 It should be no surprise, but then again, maybe you've missed the star sightings, not worked as an extra, or seen those familar white trucks and mini trailer cities know as "Base Camp." But the proof would be like Jerry MacGuire said…"Show Me The Money!:
Georgia Gains as Hollywood Loses in Movie and TV Productions
I've personally had the pleasure of being around Tyler Perry more than once. I worked on Hall Pass, The Odd Life of Timothy Green and others! Movies are big biz in Georgia and the Metro Atlanta area.
Don't go far…shows like Drop Dead Diva, The Vampire Diaries and The Game are all filmed right here in Atlanta.
It's even big news on the Big News! Check out this story on CNN News about the film industry in Georgia. (I tried to put the actual video here, but….well…)