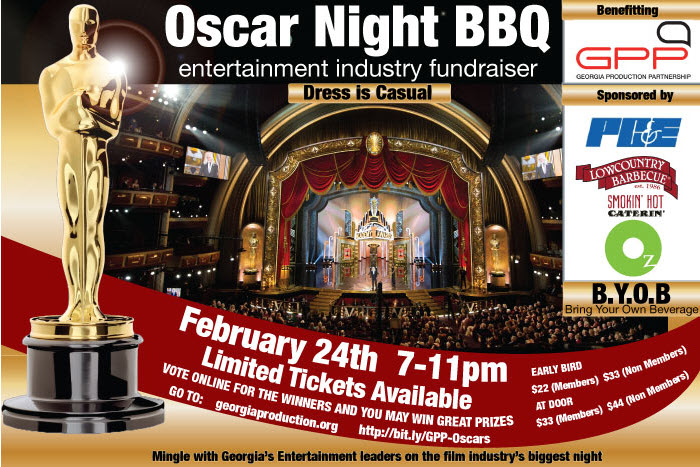 Don't miss the next GPP Fundraising Event!
Oscar Night at PC&E, Sunday February 24th: 7pm – 11pm
2235 Defoor Hills Road, Atlanta, Georgia 30318
A Great Night of Bar-B-Que, Big Screens and Great Prizes!
The entertainment industry's movers and shakers, and working folks too will gather for a night of good times and film fandom as we all enjoy the Oscars on a 30-foot wide screen. Don't miss it! Vote for your favorite Oscar nominations and you might win some great prizes. On-line ballot included when you buy a ticket. Celebrate the years best film making Georgia-style, with incredible food from LowCountry Barbecue Smokin' Hot Caterin', and help support the GPP to promote and grow film making in Georgia.
Purchase Advance Tickets Here       GPP members $22   Non-members  $33
                                                        At Door        GPP Members $33   Non-members  $44
                                            (Seating is limited and tix may not be available at door.)
Please tell all your friends to get their tickets now!!!!! seriously…
Dress is Casual, but shirts and shoes required. 
Menu:
A buffet of LowCountry's best that will make your tongue slap your brains out, with a special vegetarian section!
Roasted Vegetable Lasagna (for the non-meat eaters 🙂
Green Beans and Southern Coleslaw
Chocolate Walnut Brownies
BYOB: Bring your own beverages (You know what we mean!)
There is lots of fun and great prizes had by all!