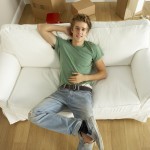 As students prepare to finish up the Spring Semester at Georgia Tech, they will be thinking about their housing options for the coming Fall semester. And so will their parents. As I've talked before, many Georgia Tech parents will be looking at the housing options, and costs for their son or daughter.
One option might be Georgia Tech Condo Housing. Now first off, let me say, there are no condominiums ON the Georgia Tech Campus. However, there are many Midtown Atlanta condominium communities that are within walking distance of the campus. If you are a Georgia Tech parent, and are looking for housing options for your kids, maybe you ought to think about investing in real estate as well as your child's higher education.
In the next few posts, I'll highlight several of the Midtown Atlanta Condominium buildings that are the most convenient to the campus. Today, lets start with the popular and very affordable Cornerstone Village.

This map shows the Georgia Tech Campus to the left. The gold arrow indicates where
Cornerstone Village Condominiums are located in reference to the campus.
Located on Peachtree Street, between 5th and 6th Streets, this Georgia Tech Condo condo housing option is the second closest to campus. (Note 5th Street, which runs right through Technology Square, across the Downtown Connector and into the Main Campus! Convenient indeed!) This community is made up of 4 separate buildings an occupies an entire city block!

The Landmark Building sits on the corner of 5th and Peachtree Streets. Built in the 1940's as an office building, it was converted to condominiums in 1999 when the Cornerstone Village project began. Homes in this building range from smaller 1 bedroom floor plans to larger 2 bedroom homes. All of them have exposed brick walls and open duct work, giving them a "loft feel." Most of the 2 bedroom floor plans in this building are not completely closed off from the living space, but this can be done with some minor remodeling.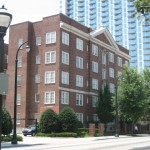 Next, we have the historic Manor House, located on the corner of 6th and Peachtree. This famed building was designed by the noted architect, Neil Reed, who has designed numerous buildings around Midtown Atlanta. Most all of the homes in this building are 1 bedroom floor plans, but are quite spacious and were nicely upgraded when the building was incorporated into Cornerstone Village in 1999. This building houses the fitness center, a laundry room (from it's past days as an apartment building) a movie theater and the property management office.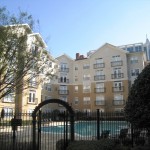 Lastly we have the Gallery Buildings, often called the 100 and 200 Buildings. These newer buildings were new construction between 1999 -2001, and surround the pool and grilling areas. These two buildings offer the most variety of floor plans, from 1 bedroom, 1 bedroom den to full 2 bedroom homes.
A concern I know of any parent is safety, so I will also touch on safety and security of each community I review. As for Cornerstone Village, they do not have a 24-hour Concierge, or actual lobby. Each building does offer a secured entrance with key cards and call boxes. Homes can have individual alarm systems connected for added security. The property, including the garage is well lit. There are minimal cameras for security.
Cornerstone Village offers the parent looking to make a real estate investment in Georgia Tech Condo housing some great opportunities! As of this writing, there are homes available from the low $70,000 range up to $155,000 for a 2 bedroom home!! Purchasing at such prices should (we hope for a real estate rebound) offer an opportunity to see some price appreciation in the years ahead.
One note of caution, and I will note this on every condominium community that I review. Cornerstone Village is currently capped out on rental permits. What does this mean to the parent looking for Georgia Tech Condo Housing? You must be purchasing for your family member to live in the home (again, the great option with the FHA Kiddie Condo Loan) and it can not be rented out. You could certainly add your name to the rental waiting list, but be cautioned…they are often very long in most Midtown Atlanta condo buildings.
You can Search Cornerstone Village Homes for Sale Here!
In my next post, I'll review MidCity Lofts, THE closest Midtown Atlanta condominium building to the Georgia Tech Campus!